Accredited Physiotherapy Provider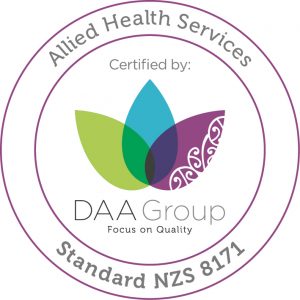 We are an accredited Physiotherapy Clinic to the New Zealand Allied Health Standards (NZS 9171:2005) by the DAA Group Ltd, and are committed to the highest clinic standards to ensure your safety.
Our philosophy
We are proud to be involved in our community, and support many local sports clubs and community initiatives.  We strongly believe in equality and in providing the same level of care to all our clients, whether they are elite athletes, or the general community.  We will conduct a comprehensive assessment, followed by education, and a hands on, exercise based treatment which allows our clients to take ownership of their conditions.  The more you know, the better you can look after yourself!
Our mission
To provide high quality physiotherapy services to all members of the community, based on evidence based research. To facilitate your return to independence and peak performance, supporting you to achieve your goals.
Our vision
Our vision is to be the premier sport physiotherapy clinic in Auckland, providing a comprehensive service to athletes at all levels and across their lifespan.  We want to encourage our community to be physically active, health literate and involved in decision making around their health and well being.
Want to join our team?
We are always looking at opportunities to grow our team.  If you are a registered New Zealand physiotherapist who wants to work with sports teams, or a physiotherapy student who wants to be involved in teams then we would love to hear from you.