Back To Your Feet Physiotherapy
(09) 972 0896
Therapist contacts
Justin 021 673 732 (TXT is best)
Silas 021 053 3639 (TXT is best)
Suzy 027 437 6113 (TXT is best)
Jacob 021 100 5989 (TXT is best)
Sina 022 599 7692 (TXT is best)
---

Western Springs Pavilion, Seddon Fields, 180 Meola Rd, Western Springs, Auckland.
---
Healthlink EDI
btyfphys
---
Email address
info@backtoyourfeet.co.nz
---
Opening Hours
Monday

07:00-18:00

Tuesday

07:00-18:00

Wednesday

07:00-18:00

Thursday

07:00-18:00

Friday

07:00-18:00

Saturday

We may be able to see you after hours. Please text 021673732 for more info

Sunday

We may be able to see you after hours. Please text 021673732 for more info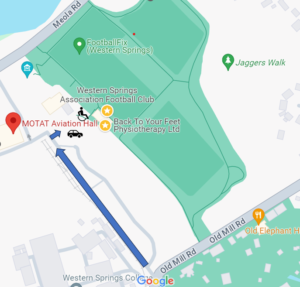 Parking and Access for people with disabilities
Auckland Council are doing work on Meola Rd and there are likely to be delays, please plan your trip accordingly. Meola Rd will be closed from Dec 15th - Feb 2024.
There is plenty of parking in the MOTAT carpark, accessible from 98 Motions Road.
Car park fees are $2 per hour, but charges are capped at $8, regardless of length of stay. The parking charges apply from 9am to 5pm. The parking meter is located next to the pedestrian crossing leading to the Aviation Hall.
There is signposted disability access parking next to the Westpoint Theatre Company at the top of the ramp that leads to the WSAFC Clubrooms. If you need to access the top floor of the facility, please ring the bell next to the door or contact your physio to let you in.
---
Telehealth (Video Consultations): a great way to connect!
Video consultations have proven to be very popular for our clients. It allows the therapist to do a comprehensive assessment of your condition from the comfort of your home, or wherever you are. We are able to provide you with a management plan for your injury, and design an exercise programme around what you have at your convenience.
Advantages of Telehealth
You can connect from wherever you are.
Reduce your travel time.
You can show us what equipment you have to do your rehabilitation
No risk of infection.
Don't wait. Book an appointment now to connect to one of our friendly therapists who can start your road to recovery.
---

Infection control
We take infection control seriously, and follow all relevant Ministry of Health guidelines. For the protection of our clients and staff, we utilise air purifiers and sufficient ventilation, and have a comprehensive cleaning schedule.
We offer online consultations (telehealth) so if you are feeling a little unwell you can still connect with us.
If you are feeling unwell, and you would like to postpone your appointment, please get in touch to reschedule ASAP as we often have a waiting list of clients who would like an appointment. You can rebook online or by contacting your physio.
Send us an email
If you have any questions of have feedback please get in touch via our contact form below. We will get back to you as soon as we can!